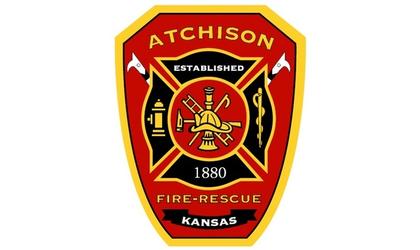 (KAIR)--A smoldering railcar leads to firefighter response and to the closure of a portion of Atchison's Main Street late Wednesday morning.
Atchison Fire Chief Ted Graf told MSC News his crews were called to 6th and Main Street shortly after 10:15 and found the railcar, which contained coal, to be smoldering. "Upon arrival, the crews noticed smoke coming from a rail car that was positioned almost directly under the 6th Street viaduct," Graf said. "The concern could be with radiated heat that could [rise up], potentially causing damage to the viaduct. That is somewhat unlikely, but certainly a possibility that we had to take into account."
Graf said crews went to work utilizing water to suppress the fire, with Main Street closed for about an hour and a-half as they did so.
The cause has not been determined. "We found some other trash and debris that could have come from overhead, the viaduct overhead, so it's certainly possible that smoking materials, or something like that, could have possibly been discarded over the bridge. However, we probably will not officially figure out a cause on that, but certainly can't rule that out."
With the firefighters successful in extinguishing the fire, Graf said the next step would fall to Union Pacific Railroad to see the railcar removed and its contents safely emptied.