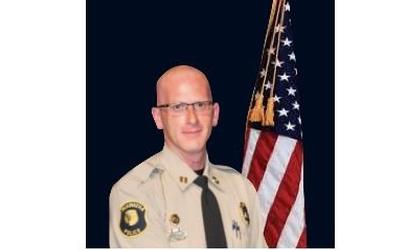 Dennis Entrikin
(KNZA)--Hiawatha Police Captain Dennis Entrikin has filed for Brown County Sheriff.
Entrikin, who also works part-time as a Nemaha County Sheriff's deputy, filed Monday for the Republican nomination.
He is the first candidate to seek the position, which is currently held by John Merchant. The position is up for election in November 2020.
"As Sheriff, my goals for the Brown County Sheriff's Office will be clear," Entrikin said. " With my leadership, experience, and skill, I will seek out every opportunity to strengthen community relations and connect residents with the valuable resources Brown County has to offer. Furthermore, I will work diligently to provide tools and training for local law enforcement agencies so they will continuously and successfully exceed professional standards."
According to a press release, Entrkin began his career by serving in the Kansas Army National Guard and currently has seventeen years of certified law enforcement experience. He is a field training officer, internal affairs investigator, and has attended the Kansas Police Administrators training. He has multiple investigation instructor certificates including domestic violence, hate crimes, and domestic terrorism. He is also a certified NRA firearms trainer for law enforcement and civilians.
Entrikin said he is grateful for the support of family and friends who have encouraged him to run for Brown County Sheriff. He grew up in Horton and attended Horton High School. Dennis and his wife Amy live with their family in rural Hiawatha. They attend the United Methodist Church in Horton.
Candidates have until June 1, 2020 to file for the office. The primary election will be held August 4 and the general election is November 3, 2020.