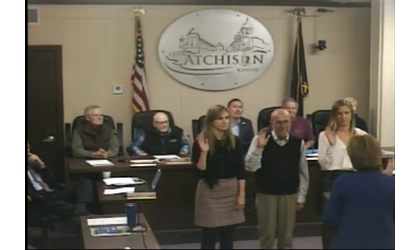 Credit: Facebook
(KAIR)--Atchison's three new City Commissioners were sworn into office Monday, with Mayor Shawn Rizza calling on the three, Abby Bartlett, Lisa Moody, and J. David Faris to come forward at the start of the session. "We have no proclamations today, so we're going to get right to the exciting part and do the oath of office," Rizza said. "Would the incoming Commissioners please come forward, and our City Clerk, Deb Clem, is going to swear you in."
After the three were sworn in, the Commission organized, with no changes, as Rizza was selected to remain as Mayor, or Chair of the Commission, while Dr. Allen Reavis was chosen to remain in the role as Vice-Mayor, or Vice-Chair.
Bartlett, Moody, and Faris were chosen by voters to fill the three open seats during November's general election.
Also during Monday's meeting, the Commission decided to make permanent the four-way stop at 2nd and Commercial Streets.
That follows a presentation made by Public Works Director Clinton McNemee and Atchison Police Chief Mike Wilson. "In the last 90 days, we've had zero accidents at 2nd and Commercial," Wilson told the Commission.
The four-way stop had been under a 90 day review, prior to Monday's unanimous Commission approval.
It was put in place to replace the traffic calming device that had been in place at the location in an attempt to slow southbound traffic on 2nd Street.