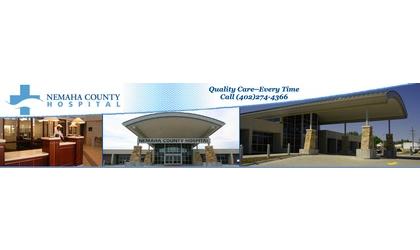 (KLZA)-- The Nemaha County Hospital in Auburn has been named a Top Agency in the 2019 HomeCare Elite.
HomeCare Elite recognizes the top-performing home health agencies in the United States. For the past 14 years the organization has annually identified the top 25 percent of agencies and highlighted the top 100 and top 500 agencies overall.
Christine Lang, senior director for ABILITY Network, a leading information technology company that helps providers and payers simplify the administrative and clinical complexities of healthcare, said the Nemaha County Hospitals home health professionals have demonstrated exceptional commitment to care quality and the patient experience.
Nemaha County Hospital Chief Executive Officer Marty Fattig said the hospital is honored to be acknowledged for quality care and credited the home health professionals for their individual commitment to high standards of practice combined with an organizational culture of caring to achieve recognition as one of the HomeCare Elite.
HomeCare Elite agencies are determined by an analysis of performance measures in quality outcomes, best practices implementation, patient experience, quality improvement and consistency as well as financial health.
To be considered a hospital must be Medicare certified and have data for at least three outcomes in Home Health Compare.
The Nemaha County Hospital is located in Auburn and is a county-owned critical access hospital serving the Southeast Nebraska, Iowa and Missouri regional area.