Vacancy filled on Hiawatha City Commission
12/10/2019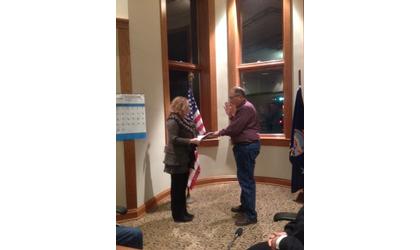 David Middendorf was sworn in as finance commissioner following his appointment to the position Monday evening
(KNZA)--A vacancy has been filled on the Hiawatha city commission.
During a special meeting Monday evening, the commission voted unanimously to appoint David Middendorf to fill the unexpired term of John Merchant, Jr. as finance commissioner. Merchant resigned at last week's meeting, effective immediately.
Middendorf was among three candidates to express an interest in filling the position. The other two candidates were Charles Brunner and Brian Shefferd.
Prior to the appointment, the Commission heard from Brunner and Middendorf. Mayor Bill Collins read a letter from Shefferd, who was unable to attend the meeting because he was traveling on business.
Middendorf served as interim finance commissioner for six months last year, and ran unsuccessfully as a write-in candidate for the position during the November 2018 election.
In making the motion to appoint Middendorf, Mayor Collins said " he is ready to put his feet on the ground, day one."
After being appointed, Middendorf was sworn-in by City Clerk Tish Sims and took his seat on the Commission.
He will fill a term expiring in January 2023.
© Many Signals Communications
You will need to be logged in to leave a comment.
Please Login The posting of advertisements, profanity, or personal attacks is prohibited.
Click here to review our Terms of Use.