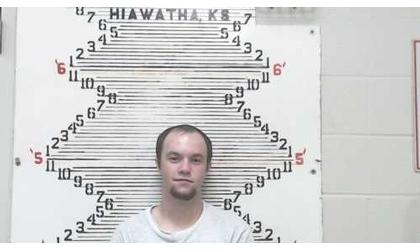 Anthony Lay/Credit: Brown Co Sheriff's Office
(KNZA)--A Willis man facing multiple charges in three separate cases has entered into a plea agreement.
Brown County Attorney Kevin Hill says 20-year-old Anthony Lay entered pleas in all three cases on January 2nd in Brown County District Court.
In the first case, Lay pleaded no contest to a felony count of fleeing or attempting to elude a police officer, misdemeanor count of circumvention of an ignition interlock device, misdemeanor count of no insurance and two traffic infractions.
The charges stem from a high speed chase in December 2018.
A jury trial had been set this week in the case.
In the second case, Lay pleaded no contest to felony criminal possession of a firearm.
Brown County charges araising out of the theft of property from a rural Muscotah business were dismissed since he was convicted in Atchison County of stealing the same property.
In the third case, Lay pleaded no contest to a felony charge of aggravated sexual battery. A jury trial in the case had been set for February.
Lay had originally been charged with rape.
Hill said the plea was entered after consultation with and the blessing of the victim, her family and law enforcement who worked the case.
The charge carries a sentence of between 114 and 128 months in prison. Lay will also be required to register as a sex offender for a period of 25 years upon his release from prison.
Lay's bond was revoked and he was remanded to the Brown County Jail to await his sentencing on March 23.