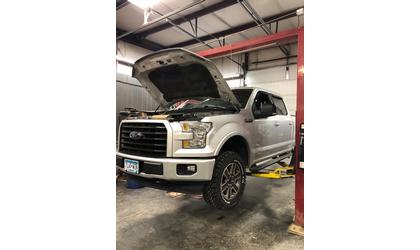 Credit: Brown Co Sheriff's Office
(KNZA)--The Brown County Sheriff's Department is searching for a stolen pickup truck.
According to a release issued late Wednesday morning by Brown County Sheriff John Merchant, the light coffee colored 2017 Ford F-150 pickup was stolen from Everest during the early morning hours of Wednesday.
The 4X4 pickup, with black tubed running boards and tinted windows, was seen leaving Everest, eastbound, around 3:20 Wednesday morning. A small, light colored passenger car was also spotted leaving that location, in the same direction, at the same time.
Anyone with information related to the case is asked to call Merchant's office at (785) 742-7125.