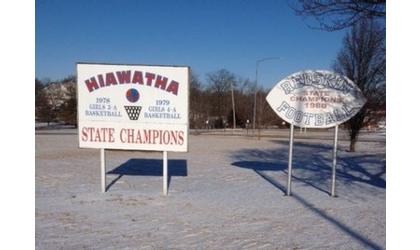 (KNZA)--A group of Hiawatha alumni appeared before the USD 415 Board of Education this week to seek approval to raise funds to either renovate or replace the state champion signs around Red Hawk Drive at the high school.
Pam Smith, speaking on behalf of the group, said the signs for 1980 football and 1978 & 79 girls basketball have faded over the years and fallen into a state of disrepair. In addition, Smith said the signs are not easily seen because trees have grown up around them.
She said they would like to relocate the signs to a more visible location, with their first choice being on 1st Street near the electric marquee sign. If not, they would like to see the signs moved to near the state cross country championship sign on the northwest end of Red Hawk Drive.
Smith estimated the cost to replace the signs at around $4,000. Board Clerk Sarah Windmeyer said a $1,000 donation has already been received for the project.
Smith said they hope to have the football sign done by this fall, which would mark the 40th anniversary of Hiawatha's state championship. The group is working with a local graphic design artist.
The Board voted to allow the group to move forward with the project and to allow donations to be sent to the district so they can be tax deductible.