Hiawatha man arrested after chase in stolen vehicle
03/25/2020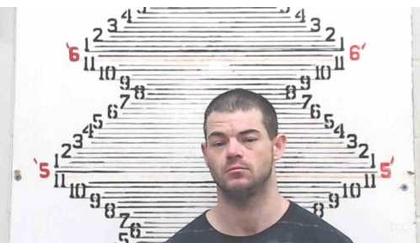 Brandon Sweet ( Credit: Brown Co Sheriff's Office)
(KNZA)--A Hiawatha man was arrested Wednesday afternoon after allegedly leading authorities on a chase in a stolen vehicle.
According to a release from Brown County Sheriff John Merchant, 37-year-old Brandon Sweet was arrested on multiple charges following the about 30 mile chase.
Merchant said the Sheriff's dispatch received a stolen vehicle report at about 1:45 from the eastern part of the county. It was reported that a male suspect had stolen a 2000 white Ford pickup truck.
A short time later, the Sheriff's Department received information from the department's former chaplain who kept the vehicle in sight giving directions until a deputy could intercept the vehicle.
When the deputy located the stolen vehicle, a chase ensued. The chase went through Willis, north on U.S. 73 and then eastbound on U.S. 36 Highway. The vehicle struck a bridge abutment, causing Sweet to lose control. The vehicle ended in the ditch north of the highway, just east of the Mulberry exit.
Merchant said Sweet was arrested on charges of felony theft, 3 counts of aggravated assault, 3 counts of avoiding spike strips, driving while suspended, cancelled or revoked and no seat belt. He was booked into the Brown County Jail.
Assisting were the Kansas Highway Patrol, Kickapoo Police Department, Sac and Fox Police Department, Hiawatha Police Department and Nemaha County Sheriff's Department.
© Many Signals Communcations
You will need to be logged in to leave a comment.
Please Login The posting of advertisements, profanity, or personal attacks is prohibited.
Click here to review our Terms of Use.