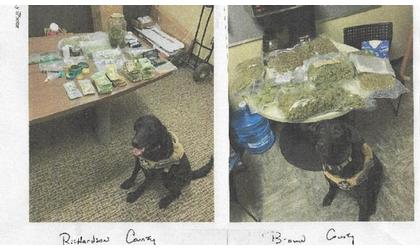 (KNZA)--The Brown County Sheriff's Department's K-9 was busy at work in two states recently.
According to a release from Brown County Sheriff John Merchant, his agency's K-9 unit, Ari, assisted the Richardson County, Nebraska Sheriff's Department with a May 2 residential raid in Falls City.
He said the raid led to the discovery of a "large quantity of marijuana," along with THC wax cartridges, ground-up "magic mushrooms," paraphernalia, pills, a small quantity of ecstasy, and approximately $5,000 in cash.
The investigation then led to property located in northwest Brown County where Merchant alleges that 7 pounds of marijuana was seized, along with "a small quantity of mushrooms," after permission was granted for the search. The alleged drugs were discovered after the K-9 Unit "alerted on a vehicle located on the property."
Arrested during the Falls City raid were 36-year-old Matthew Pohlman and 34-year-old Ashley Pohlman, both of Falls City.
Matthew Pohlman faces charges for distributing more than 450 grams of marijuana, possession of a hallucinogenic drug, and possession of drug paraphernalia.
According to Merchant, the case is still under investigation by the Brown County Sheriffs Office with assistance from the Brown County Attorney's Office.