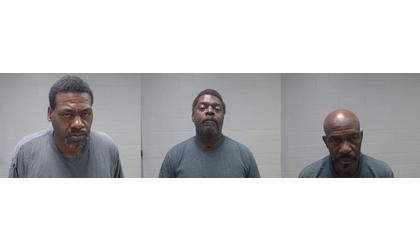 Martin Winfield, Eddie Thomas, Jr., and Larry Daniels, Sr. (Credit: Atchison Co Sheriff's Office)
(KAIR)--Three drug-related arrests are made following what Atchison Police call an on-going investigation.
According to a release from Atchison Police Chief Mike Wilson, the three arrests followed the execution of a search warrant Thursday night at 501 South 6th Street.
Taken into custody were three residents of the home, 51-year-old Martin Winfield, 57-year-old Eddie Thomas, Jr., and 62-year-old Larry Daniels, Sr.
According to Wilson, all three face charges for possession of methamphetamine, possession of cocaine, possession of diazepam, possession of ecstasy, cultivating marijuana, possession of marijuana, and possession of drug paraphernalia.
Following their arrests, all three were booked into the Atchison County Jail.