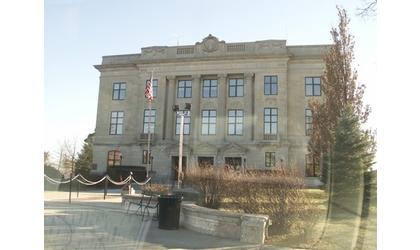 Brown County Courthouse
(KNZA)--Brown County has been awarded more than $1.9 million in federal funding from the CARES Act to help combat the health and economic challenges due to COVID-19.
On the recommendation of Brown County Emergency Management Director Don Pounds, the Brown County Commission on Monday approved the appointment of nine individuals to a committee that will determine how the county's appropriation should be spent.
The committee consists of county, city, school, health care and tribal officials.
Pounds said the county must submit a plan to the state by August 15 that outlines how the funds will be used.
He said he has sent a letter to the city clerk's in the county asking for their input.
Pounds requested that the committee members be paid $25 an hour because of the time their work will will take, with the compensation coming from the CARES Act funding allocated to the county.
Commission Chairman Dwight Kruse questioned if a volunteer committee could be paid.
Commissioners tabled a decision on the compensation until they receive input.
The State Finance Council in May approved the distribution of $400 million in funding from the CARES ACT to 103 counties in the state based on population, number of COVID-19 cases in the county and the county's unemployment rate.
The funding is to be distributed July 15, and must be used by December 30.