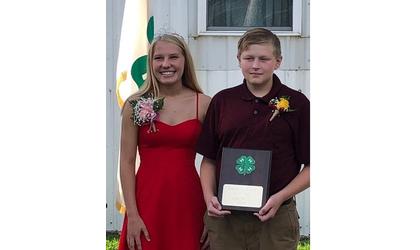 ( Credit: MSC News/Neil Wieland)
(KNZA)--The 2020 Doniphan County 4-H Fair Prince and Princess were crowned during a ceremony Monday evening at the fairgrounds in Troy.
Crowned prince was 12-year-old Reed Foley, who is in his 6th year as a member of the Sunflower 4-H Club. Foley attends Riverside Middle School and will be a 7th grader in the fall. He was selected from among two boys competing for prince.
This year's princess is 14-year-old Lena Leatherman, who is in her eighth year as a member of the Bendena 4-H Club. Leatherman was selected from among seven girls vying for princess. She will be attending Doniphan West High School in the fall.
In their roles as fair prince and princess, Foley and Leatherman will hand out ribbons and awards during the fair. The fair runs through Friday at the Doniphan County Fairgrounds in Troy.