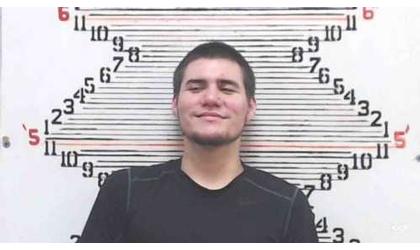 Kyle Winsea ( Credit: Brown Co Sheriff's Office)
(KNZA)--A Horton man was arrested on multiple charges late Monday night after Brown County authorities responded to a domestic disturbance call on the Kickapoo Reservation.
Brown County Sheriff John Merchant, in a news release, said deputies responded to the 911 call around 10:45.
Upon contact with the initial victims, Merchant said it was determined that the suspect fled to a second location on the reservation where another altercation took place.
22-year-old Kyle Winsea was arrested by deputies following a traffic stop during which he was identified as a passenger in the vehicle.
Winsea was arrested on charges of domestic battery, criminal threat, disorderly conduct, criminal damage to property and aggravated domestic battery stemming from the altercation at the first residence.
In addition, he was arrested for battery, criminal trespass, disorderly conduct and criminal damage to property stemming from the altercation at the second residence.
Winsea was booked in the Brown County Jail.
The Horton Police Department assisted.