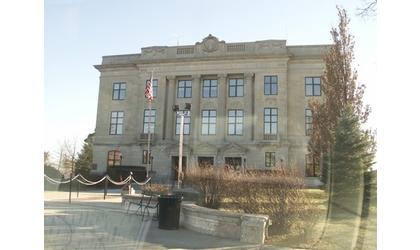 Brown County Courthouse
(KNZA)--Two decisions were made Monday by Brown County officials in an effort to prevent the ongoing spread of COVID-19.
That includes the limiting of public access to Brown County departments and offices.
As part of the plan, the doors of the Brown County Courthouse will be locked and closed to the public.
Residents should contact County offices as needed.
Calling the "arrangements to adjust services to be in the best interest of the employees and citizens of Brown County," the three members of the Commission voted in favor of the plan.
Information about the service changes will be posted to the Brown County website, and the County's Facebook page, as soon as they become available.
The plan takes effect at 8:00 on the morning of November 30.
As of November 18, Brown County had 554 positive cases of COVID-19.
Also during Monday's meeting, the Commission voted 2 to 1 to accept the updated contract tracing and exclusion of contacts in a low risk school setting.
Commissioner Keith Olsen cast the lone no vote.
The Commission's decision followed a presentation by Brown County Health Officer Robin Downard, who requested a review of the document related to the setting of a modified quarantine at County schools.
The modified quarantine protocol will not require mandatory quarantines for students and staff exposed to persons who test positive for COVID-19, if both parties were wearing masks.
It would apply to a low risk setting such as a classroom, not to high risk exposures, like sports and other activities.
The plan is designed to keep more students in the classroom and more teachers on the job.