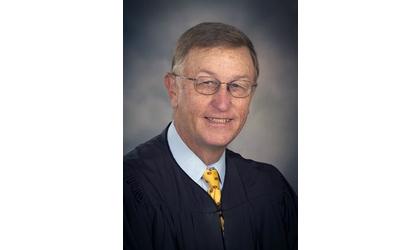 1st District Judge Robert Bednar (Credit: KS Courts)
(KAIR)--Nine nominees will be interviewed next month as they seek to fill a first district judge vacancy.
The Atchison County opening was created by the retirement of Judge Robert Bednar, which becomes effective January 11.
The First Judicial District is composed of Atchison and Leavenworth counties.
According to a release from the Kansas Courts, the District Nominating Commission will convene on the morning of Friday, December 11, at 8:30, to conduct the interviews, to be held at the Leavenworth Justice Center, located at 601 South 3rd Street, in Leavenworth.
Three of the nominees are from Atchison, including attorneys Douglas Tschauder, John Kurth, and Andrew Werring.
The other 6 attorneys to be interviewed are Jonathan Gregor, of Basehor, Pamela Burton, of Leavenworth, John Bryant, Jr., of Kansas City, Kansas, Keyta Kelly, of Tonganoxie, Amy Crawford, of Salina, and Michael Jones, of Lansing.
The nominating commission will conduct the interviews, beginning at 9:00 on the morning of December 11, and then select from three to five of the nominees whose names will be submitted to the governor to fill the position according to statutory qualification and residency requirements.
The governor has 60 days after receiving the names to decide who will be appointed.
The 1st Judicial District Nominating Commission consists of Justice Eric Rosen as the nonvoting chair; Julia Clem and Rosemary Nies, Atchison; Todd Thompson, Basehor; G. Ronald Bates Jr., Mark Preisinger, and Kevin Reardon, Leavenworth; and Lois Meadows and Geoffrey Sonntag, Tonganoxie.