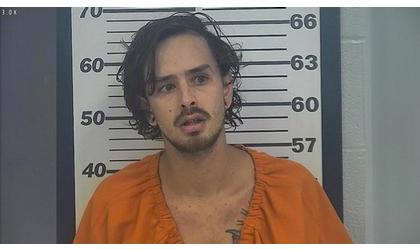 Anthony Fleming ( Credit: Platte Co Sheriff's Office)
(KAIR)--A Weston, Missouri man is charged with arson and murder in connection with an early Sunday morning Weston house fire that left a man dead.
According to a news release issued by the Platte County Sheriff's Office, 24-year-old Anthony Fleming was charged Monday for allegedly setting the fire in the 600 block of Prospect Street that claimed the life of 60-year-old Timothy Darby.
Platte County Prosecuting Attorney Eric Zahnd, in the release, said Fleming's charges were filed early Monday following an investigation by the Platte County Sheriff's Office.
Court documents, cited in the release, say Fleming allegedly intentionally set the residential fire sometime between 1 and 2:00 Sunday morning. He was located about a mile from the scene of the deadly fire, in a wooded area, wearing only socks.
Firefighters found Darby dead in the kitchen.
Fleming is charged with first degree arson and second degree murder. If convicted, he faces up to life in prison on each charge. He is currently being held without bond in the Platte County Detention Facility.
Zahnd, in the release, commends the work of the Sheriff's Office and Weston Police Department, as well as other agencies, including the Missouri State Fire Marshal's Office, for their efforts related to the fire and arrest.