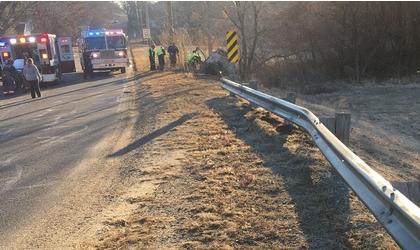 Credit: Atchison Police Department
(KAIR)--A single vehicle crash, on the northside of Atchison Tuesday morning, sent an Atchison woman to the hospital.
According to a report from Atchison Police Chief Mike Wilson, 62-year-old Julie Elias, of Atchison, was southbound on K-7 Highway when her car struck the guardrail on the K-7 curve.
That caused the car to leave the roadway in the 1300 block of Unity Street, and Elias with unspecified injuries.
She was transported from the scene by Atchison County EMS, and transported for hospital examination.
The wreck happened around 7:45 Tuesday morning.