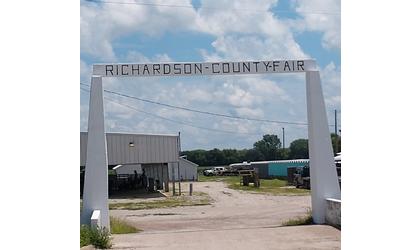 (KLZA)-- The Richardson County Fair will be held in Humboldt on Thursday, Friday and Saturday.
The Humboldt Fall Festival and Coronation Program will start the festivities on Wednesday evening at 7 in the City Square Park, with the crowning of the Fair Queen and King and the Humboldt "Woman of the Year" will be honored.
The theme for the fair this year is "The Roaring 20's."
The Fair will feature parades at 11:00 a.m. Thursday, Friday and Saturday and the D.C. Lynch Spectacular Shows carnival and games will be open all three days.
Free entertainment will be provided at 2:00 p.m. and 8:00 p.m. all three days of the Fair on the stage in the City Square Park. Thursday will feature singer, entertainer and impersonator Jeff Gordon doing rock & roll and country music from the 50's – 90's.
Friday Country Rewind will perform traditional country music from the 60's through the 90's. Saturday a diverse group called 2nd House will perform country, pop, rock and soul.
The Livestock Judging includes:
Sheep and Goats at 1:00 p.m. Thursday.
Poultry at 1:00 p.m. Friday and cattle and horses Saturday afternoon at 1.
Thursday will also feature the open class judging of photography and flowers, textiles, crafts, ag products, foods and clothing beginning at 1:00 p.m. with a sidewalk art contest on 4th Street under the mural beginning at 1.
At 3:30 there will be a salsa contest at the Ag Building followed by the casserole contest at 5:00 p.m.
At 6:30 p.m. Thursday the Southeast Nebraska Community Band will perform a concert followed by the presentation of the AL-SAR-BEN 100 Year Pioneer Farm Family Awards.
The Kiddie Pedal Tractor Pull will begin at 4:00 p.m. Friday at the livestock pavilion.
Saturday events include a tractor and gas engine show on the lot west of the United Methodist Church.
All the free entertainment is sponsored by the Richardson County Agricultural Society and the Humboldt Chamber of Commerce.