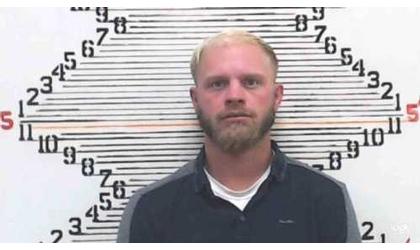 Kyle White ( Credit: Brown Co Sheriff's Office )
(KNZA)--A rural Hiawatha man, convicted of supplying alcohol to several teenagers prior to a fatal wreck in 2019, has been ordered to serve 60 days in jail to be followed by 24-months supervised probation.
28-year-old Kyle White was sentenced Wednesday on one count of unlawfully hosting minors and three counts of furnishing alcohol or cereal malt beverage to a minor.
Brown County Attorney Kevin Hill said White was sentenced to a total of 18 months in jail, with all but 60 days suspended.
Hill said White's request to serve the jail time on weekends was denied and he began serving the jail time Wednesday.
He was allowed work release with electronic monitoring.
White pleaded no contest to the misdemeanor charges last month. In exchange for the plea, four additional counts were dismissed.
White was charged in December 2019 following an investigation by the Brown County Sheriff's Department and Brown County Attorney's Office.
The investigation was launched following a single-vehicle wreck in November 2019, west of Hiawatha, that claimed the life of 16-year-old Ian Miller, of Hiawatha. Four other Hiawatha teens were injured in the wreck—including the driver,Andrew Kreek.
Kreek was adjudicated of involuntary manslaughter while driving under the influence and four other counts as a juvenile offender. He was given a suspended juvenile sentence in November of last year and placed on probation.