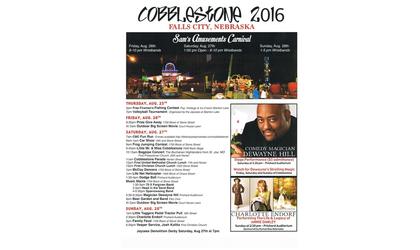 (KLZA)-- The 2016 Cobblestone Festival begins in Falls City this afternoon with the traditional Falls City Volunteer Fire Department Free Fishing Contest for kids.
The annual event includes pop, hotdogs and ice cream for the kids at Stanton Lake. Earlier this week Nebraska Game and Parks released 200 catfish into the lake.
Due to the weather and lack of teams signe up, the Falls City Jaycees sand volleyball tournament has been cancelled.
Falls City Chamber Director David Branch reminds everyone that traffic patterns in downtown Falls City will be a bit different this weekend. Beginning Thursday evening Stone Street will be blocked from 14th to 16th Street with the only exit off of Stone Street being to the west at 16th Street. Friday night Stone Street will be blocked off up through 19th Street.
Sam's Amusements Carnival will be open Friday, Saturday and Sunday. Branch says they have added another added value for this year. $20 wrist bands will be sold allowing you to ride all the rides as many times as you want on Saturday evening in addition to Friday and Sunday evenings.
The Cobblestone Parade on Highway 73 will begin at 11 o'clock Saturday morning with the theme Dancing through the Decades.