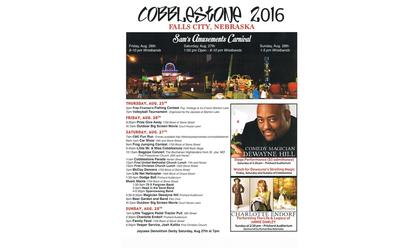 (KLZA)-- The Cobblestone Festival kicks into high gear Friday night in Falls City.
The carnival opens up at 6 p-m and 8:30 p-m the big prize giveaway will be held in the 1700 block of Stone Street. Two prize packages worth more than $500 each will be awarded as grand prizes. If there is a chance of rain, the activities will be moved indoors to Prichard Auditorim.
Dewayne Hill is going to be a busy man this weekend with various M.C. duties, strolling the streets doing magic and the performing Saturday evening at Prichard Auditorium. Hill is a comedian, slash magician who does a family oriented show, and he loves to include the kids in the show.
The annual Cobblestone Festival Parade will travel south on Harlan Street, which is Highway 73 in Falls City beginning at 11 a.m. Saturday. Parade Chairperson Lori Gottula is excited to see the entries. The theme of the parade is "Dancing Through the Decades." Hopes are to see a wide variety of float entries.
A formerCobblestone Parade chairman was selected to serve as the Grand Marshall this year. Francis Seid will lead the parade along with his wife Bev. Seid owned the John Deere dealership, founded and organized the long-running Farmer-Merchant Banquet and also owned a General Motors dealership.
Events get underway Saturday morning with the Community Medical Center Fun Run. There is a car show and lots of entertainment throughout the day and evening in Falls City.