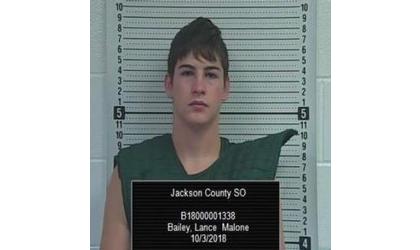 Lance Malone Bailey
(KNZA)--An amended charge has been filed against a Mayetta teenager who had faced an attempted 1st degree murder charge in the shooting a 17-year-old Mayetta girl last month.
Jackson County Attorney Shawna Miller Tuesday filed an amended complaint in Jackson County District Court charging 18-year-old Lance Bailey with a reduced charge of aggravated battery.
Bailey also faces two counts of aggravated assault, possession of marijuana and possession of drug paraphernalia
Miller told MSC news that a preliminary hearing in the case, which had scheduled for Wednesday, was continued to November 14.
Authorities say the shooting happened at a residence on the Potawatomi Reservation October 3rd during what's believed to have been a verbal altercation.
Jackson County Sheriff Tim Morse says a car occupied by three females drove into the driveway of the residence when Bailey allegedly opened fire with a rifle, striking the victim twice who was then standing in the drive.
The three girls left the scene in the vehicle and called law enforcement.
The victim was transported to a Topeka hospital for treatment of her gunshot wounds.
Bailey remains in the Jackson County Jail, held on a $500,000 bond.