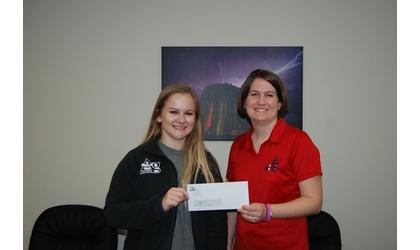 Tory Jost, STEP Foundation Executive Director, receives a donation from Ag Partners Coop Marketing Specialist, Jessica Hermesch/Credit:STEP Foundation
(KMZA)--As part of their continued support of local communities, Ag Partners Coop, Inc. has made a donation of $10,000 to be put towards the Nemaha County STEP Foundation's 2018 Capital Campaign.
The donation is comprised of a contribution from Ag Partners Coop, Inc. and the CHS Foundation's Seeds for Stewardship Program.
CHS's program matches funds for hometown projects selected and funded by local cooperatives.