TikTok video leaves officer suspended
06/23/2020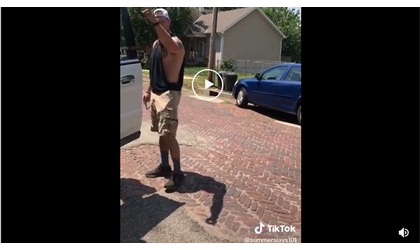 Still capture from the TikTok video that led to the suspension of a St. Joseph, MO Police Officer (Credit: TikTok)
(ST. JOSEPH, Mo.) St. Joseph police are investigating an incident involving an off-duty officer captured on video.
The officer has been identified as Officer Brandon Harrison and has been with the St. Joseph Police Department since January 2019.
KQ2-TV reports that cell phone video showed a man, identified as off-duty police officer Harrison, yelling profanities at another man on a sidewalk and threatening to beat him up. The video was posted to TikTok, a social media platform over the weekend, and has now been viewed 1.6 million times.
In the video, Harrison, dressed in plain clothes, is seen approaching a man on a sidewalk. There's some back-and-forth about a car accident, Harrison alleging the man hit his car and arguing with him about whether he told the truth to the female officer on the scene. Harrison, the off-duty officer, then tells the man to sit down but the man refuses because the off-duty officer is not in uniform.
The on-duty female officer backed up Harrison's demand and tells the man to sit down.
According to the police department, the officer has been relieved of police duties and placed on administrative leave. Harrison's disciplinary record was not made immediately available. The incident is still under investigation.
The female officer is not on administrative duty, according to Saint Joseph Police, and her name has not been released by the department.
Warning: Strong language
© Many Signals Communcations
You will need to be logged in to leave a comment.
Please Login The posting of advertisements, profanity, or personal attacks is prohibited.
Click here to review our Terms of Use.