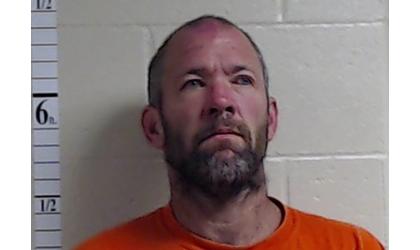 Travis Kirkendall
(KLZA)-- The Richardson County Sheriffs Office is asking for the public's assistance in locating 43-year-old Travis R. Kirkendall of Falls City.
Arrest warrants were issued for Kirkendall in October when he failed to appear in Richardson County District Court for arraignment in two separate cases.
Kirkendall, is described as a white male standing 6'4" weighing 225 pounds with brown hair and blue eyes.
A wanted poster for Kirkendall advises the public not to attempt to apprehend Kirkendall as he is considered dangerous. If you see him, you are advised to call 911.
Kirkendall is currently facing felony charges of theft by receiving stolen property valued at more than $5-thousand. Operating a motor vehicle to avoid arrest; burglary, resisting arrest and being an accessory to a felony.
In addition he is wanted for driving under suspension.
Kirkendall is presently facing 15 charges including several felonies.
Anyone with information on the whereabouts of Kirkendall is asking to contact the Richardson County Sheriff's Office or Falls City Police Department.