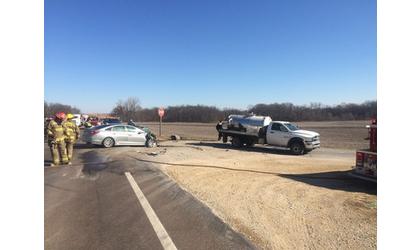 photo credit: Atchison Co Sheriff's Office
(KAIR)--A Wednesday morning two-vehicle Atchison County wreck sent one person to the hospital.
According to a report from Atchison County Sheriff Jack Laurie, the wreck happened around 10:40 at the intersection of McPherson Road and U.S. 59 Highway.
Laurie says 21-year-old Christian Palacios, of Lawrence, was northbound on U.S. 59 when his car struck the rear of a truck that had braked to turn off the highway driven by Topeka resident Brian Thurma.
Laurie said Palacios stated he had dropped something on the floorboard and was reaching for it when the wreck occurred.
Thurma was transported to the Atchison Hospital for the treatment of minor injuries.
Laura says he was driving a truck used to pump waste from portable toilets.
The Nortonville Fire Department assisted at the scene by washing down fluids that had leaked from the vehicles.