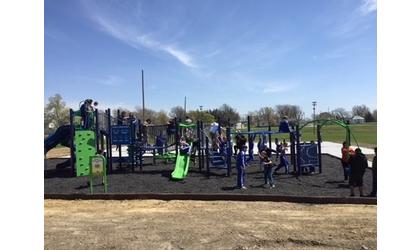 (KNZA)--A new playground will be dedicated Wednesday afternoon, May 15, in Everest.
The new playground located at the Everest Middle School has been named "Charger Community Park" and will be dedicated at 1:00. The public is invited to attend.
The playground officially opened for use on April 16, and is accessible to the community.
Charger PTO President Sarah Stirton says the organization saw the need for an outdoor space where students could play and unwind. They applied for, and received, a grant to cover a large portion of the playground with some work done in-kind.
After designing a playground and getting bids on a basketball court, Stirton says donations were sought. She said they raised the funding for the project in only three months.
Vollmer Farms, of Lancaster, and Tom Stirton Trucking, of Horton, removed the existing tennis courts so the new structures could be placed.
Bottorff Construction poured the concrete for a full-sized basketball court, which includes two basketball goals.
Stirton says twenty-four community volunteers helped build the playground working a 10-hour day to complete the project. A professional install crew from Wichita came to help.