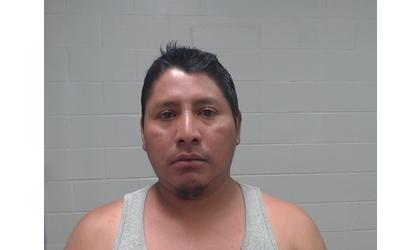 Rudy Estrada/Credit: Atchison Co Sheriff's Office
(KAIR)--A Missouri man is caught in the act of burglarizing an Atchison restaurant.
That's the allegation made by police, with 28-year-old Carthage, Misssouri resident Rudy Estrada facing charges for the crime.
According to Atchison Police Chief Mike Wilson, officers responded to 333 South 10th Street, the location of Pizza Hut, around 2:00 Thursday morning.
When they arrived, they found that forced entry had been made to gain access, and that glass had been broken out of a door and window.
Inside, officers found Estrada, who they say had forced open a cash register.
Wilson said Estrada was taken into custody for burglary and criminal damage to property.
Following his arrest, he was booked into the Atchison County Jail.