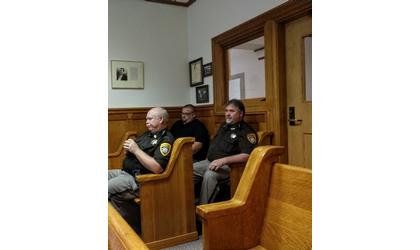 (KLZA)-- Following several weeks of discussion and urging from members of the Richardson County Sheriff's Department, County Commissioners have approved a salary increase beginning June 30th for the various Deputy Sheriff positions within the department.
During the June 26th Commissioners meeting, Deputy Clinton Stonebarger presented a revised "step pay scale" to Commissioners John Caverzagie and Terry Frank. Board Chairman David Sickel was gone due to an illness.
Following discussion, commissioners tabled the step pay scale for further consideration.
The wage increases will be between $3.40 and $3.44 per hour for the various positions.
The new hourly wages are:
Deputy Sergeant - $25.35.
Investigator - $25.35.
Jail Administrator – Sergeant - $24.81.
Deputies with less than three years time - $23.16.
Deputies with more than three years experience - $23.66.
Road Sergeant - $25.35.
The annual salary for the Sheriff is set for four-year periods and will not be changed.
Commissioners also approved partial payment of claims filed by deputies, but did not agree to paying time-and-a-half on holidays worked. Stonebarger and Lyle McMann will be paid for an additional two-hours worked on holidays. The deputies were being paid for 8 hours of work, while working 10 hour shifts on holidays. Stonebarger will be paid $992.25. His claim was in an amount of $2,341. McMann will be paid $1,032.75, his claim was for $2,765.