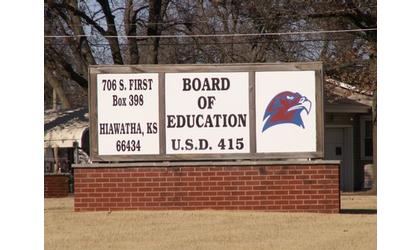 (KNZA)--A new phone system will be installed in Hiawatha school district buildings.
The USD 415 Board of Education Monday evening accepted a bid from Rainbow Communications for the installation of an internet-based phone system at a cost of $14,126, which the district will lease. In addition, there will be monthly recurring charges of $4,240, which includes the phone lease as well as all phone, internet, and fax services along with federal and state taxes.
Rainbow made a presentation to the board at last month's meeting.
On Monday evening, the Board heard a presentation from another company, WANSecurity of Overland Park, for a phone upgrade.
Following discussion, the Board voted to go with Rainbow.
The phone upgrade is to be completed in three phases.
In other business, the Board accepted the lone bid received by Midwest Coating, of Topeka, for the replacement of the bus barn roof at a cost of $31,697. District Maintenance Supervisor Matt Cluck said the current metal roof is leaking.
Following an executive session, the Board approved a four percent pay raise for all classified staff, effective August 5.
The Board also approved a four percent pay raise for all administrative staff, effective with the 2019-20 school year.