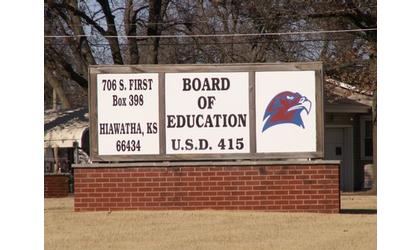 (KNZA)--Improvements will be made to the Hiawatha Elementary School south parking lot.
The Hiawatha School Board Monday evening approved having Brown County chip and seal the parking lot and circle driveway at an estimated cost of $23,021.
In addition, the Board on a 6-1 vote accepted a bid from AHRS Construction, of Bern, in the amount of $34,600 for concrete curbs and islands at the parking lot. Board President Ian Schuetz cast the lone " no" vote.
The work is to be done next summer.
Approval came after a discussion of traffic flow and student drop-offs at the elementary school, with the hope that the addition of islands and curbs will help the situation.
In other business, the Board accepted the low bid submitted by Fortis Integrated Services, of St. Joseph, for replacement of the high school wood shop boiler at a cost of $18,969.
The boiler is expected to be replaced by December 31.
The Board approved two new high school clubs. They include a Stitches Club and a Gay/Straight Alliance Club. Both clubs were proposed by students and will have volunteer sponsors.
The Stitches Club will teach students craft skills such as crocheting, sewing and other skills associated with fabric making. The volunteer sponsor will be Patty Hankerson-Davis.
The Gay/Straight Alliance Club will promote diversity, inclusion and acceptance for those in the LGBTQ community. The volunteer sponsors will be Jenny Dunn and Chris Diller.