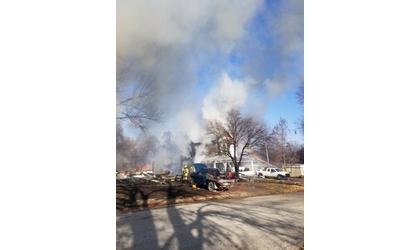 ( Credit: Horton Police Chief John Calhoon)
(KNZA)--Three Horton homes were destroyed by fire early Tuesday afternoon, leaving four families displaced.
Officials say the fire was reported around 12:30 in the 300 block of East 8th Street.
When firefighters arrived on the scene one of the houses was completely engulfed in flames, which caused the two neighboring houses to catch fire.
Area fire departments responded to assist the Horton Fire Department in battling the fires.
No one was home at the time of the fire and no injuries were reported.
The cause of the fire remains under investigation.
The American Red Cross was contacted to provide assistance to the families displayed by the fire, who lost all their belongings.
They are in need of clothing and food.
They are in need of clothing and food. Monetary donations are also being accepted. Donations can be dropped off at the Horton Police Department.
Clothing sizes are as follows:
Boys size 12 month
Girls size 4T
Boys size 5T
Women's size medium and large shirts
Women's size 4, 5 and 10 pants
Women's size 7 1/2 or 8 shoes
Women's size 5 underwear
Men's size large and XL shirts
Men's size 33×30, 36×32, and 36×34 pants
Men's size large underwear
Men's size 9 socks
Men's size 10 and 11 shoes