Sentencing hearing set in toxic gas cloud case
02/27/2020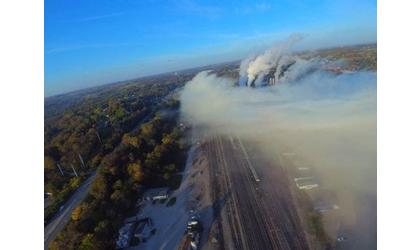 Aerial drone photo of the chemical cloud over Atchison, KS on October 21, 2016/Photo credit: Corie Dunn.
(KAIR)--A federal judge has set a late May hearing date for the two companies who pleaded guilty to violating the federal Clean Air Act, in Atchison.
According to a news release from the office of U.S. Attorney Stephen McAllister, the sentencing hearing for Atchison-based MGP Ingredients and Kansas City, Kansas-based Harcros Chemicals, is scheduled for May 27. It's set to begin at 1:30 that afternoon in room 403 of the Frank Carlson Federal Building, located at 444 Southeast Quincy Street, in Topeka.
McAllister, in the release, says he wants to make certain the public is aware that the sentencing will be open to the public, as approximately 140 people sought medical care after a cloud of chlorine gas formed over Atchison on the morning of October 21, 2016.
Authorities say the cloud was due to the improper mixing of chemicals delivered to MGP by Harcros. 4,000 gallons of sulfuric acid were mistakenly combined with 5,800 gallons of sodium hypochlorite, which caused a greenish-yellow chlorine gas cloud to form.
Both companies have pleaded guilty to violating the Clean Air Act and each has agreed to pay a $1 million fine.
MGP pleaded in November of last year, while Harcros pleaded in January of this year.
McAllister, in the release, said he wants to ensure anyone impacted by the incident is afforded the right to be reasonably heard and not to be excluded from court. Due to time constraints, it may be impractical for each victim to speak at the sentencing hearing. However, anyone who would like to submit a written victim impact statement for the court's consideration can do so by email.
© Many Signals Communications
You will need to be logged in to leave a comment.
Please Login The posting of advertisements, profanity, or personal attacks is prohibited.
Click here to review our Terms of Use.