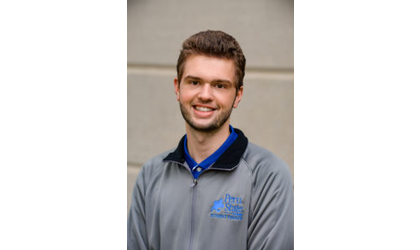 (KLZA)--Jared Koelzer, senior student at Peru State, is working at the Nebraska State Capitol this spring as an intern for Senator Julie Slama of District 1.
Koelzer's internship is paid under the new Senator Floyd and Doris Wagner Vrtiska Nebraska Unicameral Internship.
Koelzer comes from Corning, Kansas and is a graduate of Central High School. He is a senior majoring in history with a minor in political science. He plans to graduate in May of 2021.
Peru State College has offered a paid internship at the State Capitol each legislative session since 2003, with funds provided through a campus work-study program. However, the increases in minimum wage and the demands on the work study program threatened the unicameral internship funding. Former State Senator Floyd Vrtiska stepped forward with a contribution to endow the internship and provide a permanent source of funding for students from Peru State who are seeking experience at the state government level.
Floyd Vrtiska served in the Nebraska Unicameral as the representative of District 1 from 1992-2004. As a state senator, he was a strong advocate for Peru State College. He secured funding for an expansion of Hoyt Science Building and he served on the Nebraska State College System Board of Trustees and the Peru State College Foundation Board of Directors. Vrtiska was also very active on numerous other local, county and state boards.
The Senator Floyd and Doris Wagner Vrtiska Nebraska Unicameral Internship is administered by the Peru State College Foundation.