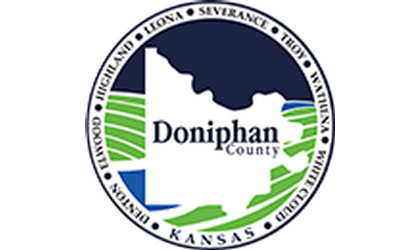 (KNZA)--The Doniphan County Commission on Monday further discussed a request from Doniphan County Ambulance District #1 for $75,000 in additional funding for 2021.
Commission Chairman Tad Gieger re-opened the discussion.
The Commission last week approved a $40,000 increase in funding for the Troy-based ambulance district.
The ambulance district currently receives a tax appropriation of $94,000.
Gieger made a motion to alter the tax appropriation given to the city of Troy for operations of the ambulance district from the previously approved amount of $134,000 to $144,000 for a total increase of $50,000. The motion was unanimously approved.
Later in the meeting, Troy city and ambulance district officials met with the Commission to discuss the request for additional funding.
Troy City Attorney Alan Boeh said the ambulance district use to be staffed largely be volunteers but only six volunteers currently remain, and two of the six are no longer able to serve. Boeh said without hiring additional full-time staff, the county risks losing the ambulance service, which could also be detrimental to economic development and future growth.
Commissioner Tim Collins said with dwindling volunteers since 2015, the ambulance district should have been planning for the hiring of additional staff for several years instead of asking for a large increase all in one year.
While understanding the need for the ambulance service, Geiger said the Commission also has to be economically responsible and mindful of the taxpayer.
Geiger asked for complete budgets for the ambulance district and city of Troy for their review and consideration before the Commission takes further action.