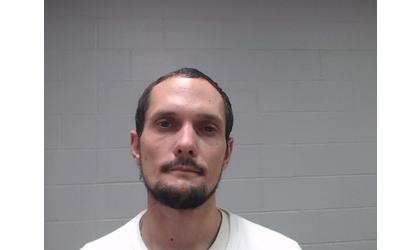 Joseph Dyer (Credit: Atchison Co Sheriff's Office)
(KAIR)--An Atchison County inmate, who walked away from work detail in an unsecured area of the Atchison County Jail Monday, has not yet been located.
According to a report from Atchison County Sheriff Jack Laurie, 35-year-old Joseph Dyer was working in the jail's kitchen when he walked away, going west, on foot, toward 7th Street, through the alley. It was a few blocks away, Laurie said, that Dyer was picked up by a vehicle.
A description of the suspect vehicle was obtained, and it was followed by Atchison Police until it drove into Missouri, and no stop was attempted.
According to Laurie, an affidavit has been filed to obtain an arrest warrant for Dyer, who has been serving a sentence for a 2016 misdemeanor case.
The investigation is ongoing.