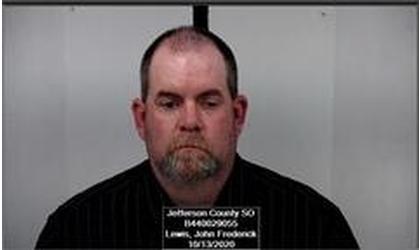 John Lewis ( Credit: Jefferson Co Sheriff's Office)
(KNZA)--An Ozawkie man is facing charges in a August 2019 single-vehicle Jefferson County crash that claimed the lives of two men.
According to the Jefferson County Jail roster, 44-year-old John Lewis was arrested Tuesday on a warrant charging him with involuntary manslaughter while driving under the influence, aggravated battery, driving under the influence and transporting an open container.
He was later released after posting a $10,000 bond.
The Kansas Highway Patrol says Lewis was driving a pickup truck late August 17, 2019 on K-237, north of 50th Street, when he failed to negotiate a curve. The vehicle left the roadway and overturned several times.
Two passengers, 21-year-old Oskaloosa resident Luke Puccinelli and 46-year-old Topeka resident Christopher Webb, were killed in the crash.
Lewis and another passenger, Nortonville resident Gavin Lewis, were seriously injured.