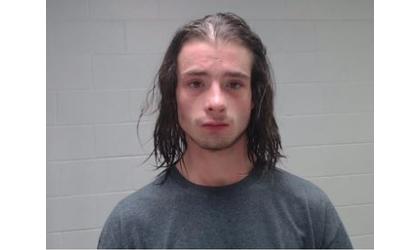 Jacob Cady ( Credit: Atchison Co Sheriff's Office)
(KAIR)--A Missouri man was arrested early Thursday morning after Atchison Police discovered a burglary-in-progress.
According to a report from Atchison Police Chief Mike Wilson, around 1:45 a police officer on patrol spotted a person inside the ticket booth located between the baseball and football fields at the Atchison High School in the 1500 block of Riley Street.
Wilson said the suspect had taken items from the ticket booth.
A door was damaged, a number of windows broken out and an electrical junction box damaged.
Wilson said 20-year-old Jacob Cady, of Odessa, Missouri, was taken into custody at the scene.
He was booked into the Atchison County Jail on charges of burglary, theft, and criminal damage to property.