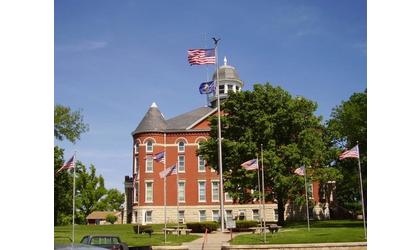 Doniphan County Courthouse In Troy
(KAIR)--Face masks are now mandatory when going to public spaces in Doniphan County.
That follows the unanimous passage Monday of a mandatory mask requirement by the Doniphan County Commission.
It followed an appeal from County health officials to implement the change as a method to mitigate the spread of the coronavirus.
Health Department/Home Health Administrator Sheryl Pierce spoke to the Commission by telephone, encouraging them to follow Kansas Governor Laura Kelly's Executive Order requiring the wearing of masks.
The resolution requiring the wearing of masks or other face coverings, and enforcement of quarantine and isolation orders within Doniphan County, was presented to the Commission by Emergency Management Coordinator Julie Meng.
Voices of opposition to the mandate were heard from several present during Monday's meeting, including County Commissioner-elect Wayne Grable, who said wearing a mask should be an individual choice.
According to the minutes of the meeting, First District Road Foreman Sean Price didn't oppose the wearing of masks, but did voice concern about the short time frame for implementation.
The mask mandate was approved unanimously Monday, and took effect in Doniphan County Tuesday.
It will be reviewed by the Commission December 7, during the Commission's regular meeting.