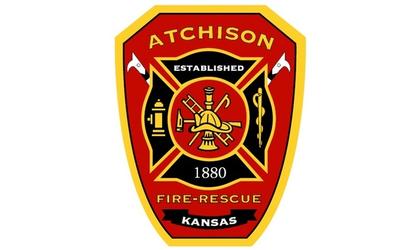 (KAIR)--Atchison fire crews Tuesday night battled a fire on Atchison's south side that sent two residents to the hospital and claimed the life of at least several animals.
A release from Atchison interim Fire Chief Patrick Weishaar, issued Tuesday night at 11:30, four hours after the fire began, said his crews were called to the residence, at 1200 South 5th Street, around 7:30, and found the small home engulfed in flames upon arrival.
Two residents of the home were able to escape, but both were transported by Atchison County EMS to Atchison's Amberwell Hospital, where one was treated for minor burns.
According to Weishaar, the couple had several pets inside the home at the time of the fire, with some lost in the blaze. At least five dogs were inside the home at the time of the fire, with the Atchison Humane Society called to the scene. It remains unclear if more than two of the animals were rescued, based on social media posts made by an employee of the Humane Society.
The Red Cross has been called in to assist the residents of the home.
Weishaar, in the release, said the fire-fighting crews "were able to quickly extinguish the fire but at this time the structure appears to be a total loss."
The cause remains under investigation by AFD investigators.
The fire is believed to have begun in a bedroom.