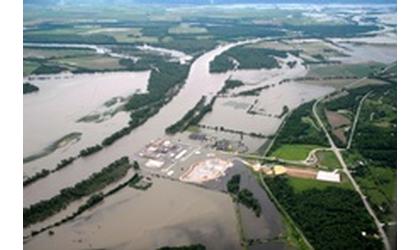 (KLZA)- The Northeast Nemaha County ( Nebraska) Long-term Recovery Group continues working to build relationships and coordinate efforts and pursue funding to rebuild the City of Peru and the surrounding region which suffered an estimated $7.9-million in economic loss, including $4.2-million in agricultureal revenue losses due to levee damage during the 2019 flooding..
As the new year is underway, the group provided updates on several infrastructure projects in the region.
A contract has been signed between the City of Peru and the Auburn Board of Public Works that will allow Peru to join the Auburn BPW's water supply.
The City of Peru also accepted an offer from FEMA to fund 75 percent of the construction costs, limited to $5.2-million, related to building the water connection to Auburn. The City will be responsible for 12.5 percent of the cost with the other 12.5 percent coming from The Nebraska Emergency Management Agency.
The City is hoping to be able to cover their portion of the funding through grants.
In December, President Donald Trump signed the Water Resources Development Act which will make the Peru levee eligible for Federal Funding and allow the U.S. Army Corps of Engineers to repair the breached levee that has protected Peru since it was built in 1952.
In addition, the City of Peru has been approved to receive FEMA funding through the Hazard Mitigation Grant Program to purchase properties in the 100-year flood plain and turn the are into green space.