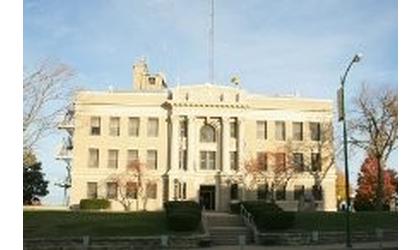 Richardson County Courthouse
(KLZA)-- Richardson County Commissioners approved a two-percent pay increase for the Road Department Foreman,Bridge Foreman and Administrative Assistant, effective July 1, 2020 when they met Tuesday.
Commissioners also conducted the quarterly jail inspection at the Law Enforcement Center finding the facility to be in good order.
A purchase order for just over $1,800 was approved for dining trays and lids for the inmates.
County Building Maintenance Technician Tyler Cooper reviewed the purchase of a blade for the utility vehicle to remove snow from the courthouse grounds and the Law Enforcement Center. A purchase in an amount of $1,600 from M&M Auto Sports was approved.
Sheriff Rick Hardesty reported he is communicating with different suppliers to obtain a K-9 to be used as a Richardson County Drug Dog.