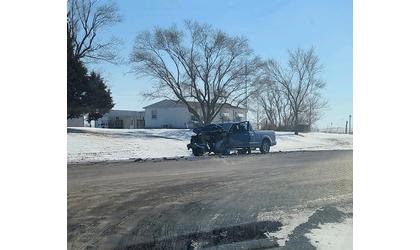 ( Credit: MSC News/Justin Fluke)
(KNZA)--A late Thursday morning two-vehicle Brown County wreck sent a Hiawatha man to the hospital.
The Kansas Highway Patrol says it happened on U.S. 73 Highway about 5 miles south of Hiawatha shortly before 11:30..
The Patrol reports 59-year-old Roland Keller was northbound when his pickup truck struck the rear of a northbound semi tractor-trailer that was slowing to turn westbound onto 170th Road.
Keller was transported to the Hiawatha Community Hospital for the treatment of suspected serious injuries.
The semi driver, 74-year-old Horton resident Dale Stirton, was not hurt.
The Patrol says both drivers were wearing seatbelts when the wreck occurred.