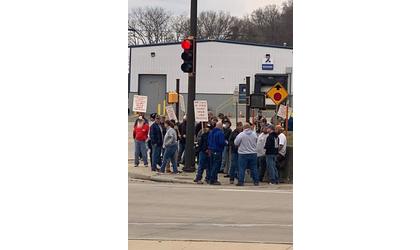 Members of USW Local 6943, employed by Atchison's Bradken Foundry, went on strike Monday, March 22, 2021 after contract negotiations failed. (Photo credit: Tom Kautz/MSC News)
(KAIR)--An agreement is reached, and the strike launched last month at the Atchison Bradken foundry by members of United Steel Workers Local 6943 has come to an end.
Union President Gregg Welch told MSC News the union and Bradken management came to terms around 3:30 Monday afternoon, leading to the end of the strike, launched due to disagreements over management rights. "[We negotiated management rights] to where I think both parties can really have a say in what goes on in the foundry, as far as the union seat at the table in negotiating policies and training and things like that," Welch told MSC News late Monday afternoon.
Welch commended the union members, and others, who maintained and supported the strike. "I couldn't have been more pleased to see the strength in unity of our members, and non-members, sticking together for the right thing to do," adding that, "it's kind of sad to know we have to be out there, not getting paid, in the rain and cold, but I'm proud of everybody. I'm proud of the community for everything they did, for sticking with us and the support. I'm kind of overwhelmed by how it all went."
Bradken Vice-President of Operations, Ken Bean, told MSC News, "Obviously we're excited the strike is over and we're now able to go back to work. We're very pleased we were able to work with the USW to make the needed changes to the contract to ensure the viability of Atchison & St Joseph and position the sites for future success."
The strike began at 5:00 on the evening of March 22 after negotiations between the union and Bradken management failed.