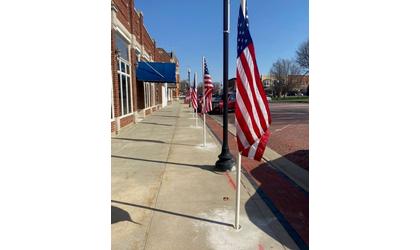 (Credit: Chapel Oaks Funeral Home)
(KNZA)--On occasion, five American flags will be displayed in front of Chapel Oaks Funeral Home, in Hiawatha.
The Hiawatha City Commission gave their blessing for holes to be drilled in the concrete sidewalk, which was performed by city workers. Chapel Oaks provided the supplies—including ground sleeves for the poles to be placed and caps for the concrete when the poles are removed.
The flags and poles are provided in cooperation with the Hiawatha Kiwanis.
The funeral home says the flags will be displayed only during a deceased veteran's visitation and funeral service in honor of their service to the country.