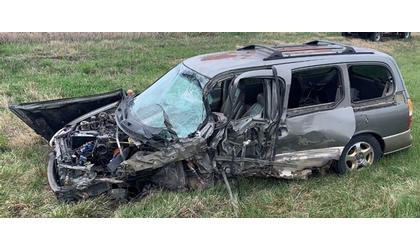 ( Credit: Jackson Co Sheriff's Office )
(KNZA)--A three-vehicle wreck in western Jackson County Monday evening sent two people to the hospital.
Jackson County Sheriff Tim Morse said the wreck was reported shortly after 5:00 on K-16 highway, east of B. Road in rural Havensville.
Morse said 38-year-old Cassville, Missouri resident Jonathan Smith was eastbound on K-16 when his mini-van crossed the center line and collided with a westbound pickup truck driven by 74-year-old Effingham resident James Moore.
Morse said Smith was flown to a Topeka hospital with critical injuries. He said Moore was taken to a Topeka hospital with "debilitating injuries."
Three other occupants in Moore's truck refused transport.
A third vehicle, a passenger car, was also involved in the collision. Morse said both the driver, 26-year-old Onaga resident Anthony Goforth, and his passenger were not hurt.