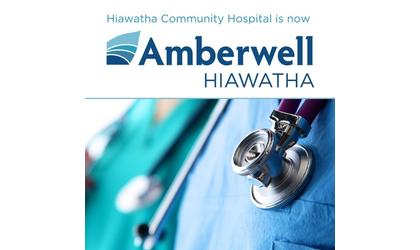 (KNZA)--Hiawatha Community Hospital has announced the adoption of a new name as one of the first steps in the affiliation process with Atchison-based Amberwell Health.
Beginning May 3rd, both the complete care location in Hiawatha and the primary care clinic in Highland will begin using the Amberwell name. Hiawatha Community Hospital will be known as "Amberwell Hiawatha" and HCH Highland Clinic will be known as "Amberwell Highland Clinic". Services offered at each location will also adopt Amberwell brand names, including HCH Family Practice Clinic at Amberwell Hiawatha, which will now be an Amberwell Primary Care location.
In addition, Hiawatha Community Hospital Foundation will adopt the name "Amberwell Hiawatha Foundation" to align with the new Amberwell Hiawatha name. The leadership of the foundation board remains the same and donations will continue to apply only to Amberwell Hiawatha.
On March 4, Hiawatha Community Hospital and Amberwell Health announced the affiliation to create a clinically integrated network to provide patients in Northeast Kansas improved access to a full spectrum of care close to home.
The affiliation provides the opportunity to strengthen the future of healthcare in Northeast Kansas and surrounding areas. Within Amberwell Health, the affiliated organizations are now in the process of integrating clinical service lines and operational infrastructures.
Amberwell Health began in 2020, when Atchison Hospital created the brand name and organizational structure with a vision to become a rural healthcare system that connects northeast Kansas communities and care to ensure local healthcare thrives.
Amberwell Health now includes two complete care locations –Amberwell Atchison and Amberwell Hiawatha–which provide inpatient, outpatient, surgery, and obstetrics services, and 5 clinic locations in Atchison, Highland, Horton, Leavenworth, and Troy.