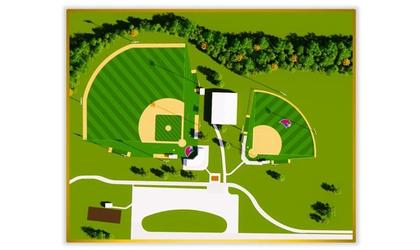 Hiawatha Championship Sports Complex
(KNZA)---The Hiawatha City Commission Monday evening uanimously approved a land lease for a proposed indoor practice facility on the Noble Park grounds.
The lease agreement will be drafted by City Attorney Andy Delaney and brought back to the commission's May 24 meeting for signing Commissioners agreed to a 25-year term.
The indoor facility is the first phase of a three-phase improvement project being proposed at Noble Park by the Hiawatha Baseball and Softball Club.
Approval of the lease agreement will allow the group to begin fund raising efforts for the estimated $300,000 facility.
The group asked the Hiawatha School Board last month for a $200,000 commitment to kick-start the project, and will meet with the board again at their next meeting on May 10.
Troy Kolb, a member of the Baseball and Softball Club board, said the board will retain ownership of the building. He said that will allow them to set up, maintain and schedule for the facility as they see fit.