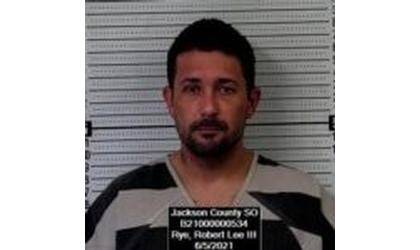 Robert Rye III ( Credit:Jackson Co Sheriff's Office)
(KNZA)--A Jackson County standoff with a wanted Nemaha County fugitive ended with the man in custody Friday night.
According to a release from Jackson County Sheriff Tim Morse, his deputies were joined by Holton Police and the Kansas Highway Patrol for the nearly two hours it took to persuade the fugitive, identified as 35-year-old Wetmore resident Robert Lee Rye III, to surrender.
Rye was wanted out of Nemaha County on a felony probation warrant.
Rye, who was barricaded in a rural Holton residence located at 12349 244th Lane, surrendered without incident to law enforcement shortly after 11:15 Friday night.
He was booked into the Jackson County Jail for interference with law enforcement and on the felony probation warrant.